The Month of Free Gifts!
Spend $80 to receive 4 free gifts
($39 value)
Pink Pitaya - expired 2023-03-29
Fruitballer
Mermaid Mold
Sea Shells Mold
Spend $120 to receive 8 free gifts
($79 value)
Everything from above, and:
Beetroot Powder - short date 2023-08-18
Black Carrot Powder - short date 2023-08-19
Silver Palmtree Spoon
Gold Palmtree Spoon
Help us reduce unnecessary food waste, and get free gifts at the same time! The products will automatically be added to your cart once you meet he minimum threshhold! Happy shopping!
What is Activated Charcoal?
Our activated charcoal is made from bamboo that has been heated up and exposed to oxygen.
The result is a fine black powder that can adsorb serious amounts of toxins and other stuff you don't want in your body.
---
Mix up a pinch of our activated charcoal with lemon juice and some fresh ginger in a shot glass to lift your spirits and get yo ass up.


Besides being a lifesaver (literally) you can make EPIC galaxy smoothie bowls that would impress the balls off Stephen Hawking.


You can also use this bad boy for teeth whitening and purifying facial masks. Yaazzz, you're gonna be so pretty.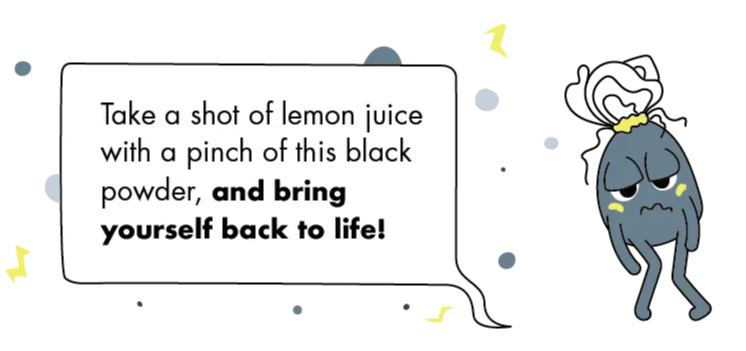 Pro tips for best results
Recommended serving size (And daily dose) is 1 tsp.

Do not exceed as this is a supplement classified product

. Also, do not consume 1 hour before our 2 hours after any drugs, vitamins or medications as it is a very potent adsorbent and might disrupt the effect of those medications if consumed at the same time.


Mix with light colored foods to get he most colorful pop and most vibrant result. (Bananas, mango, plant milk etc).


Charcoal will be great to use in sugar fondant decoration. For better incorporate powdered food coloring, make sure the sugar fondant is really soft.


This powder is specially great to use in hot foods like pasta, waffles, pancakes and home baked bread. It will never loose color, so creativity is your only limitation!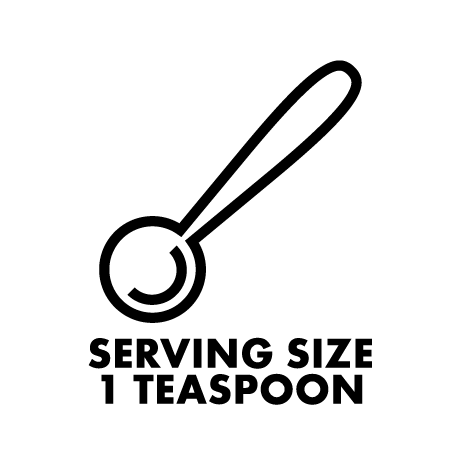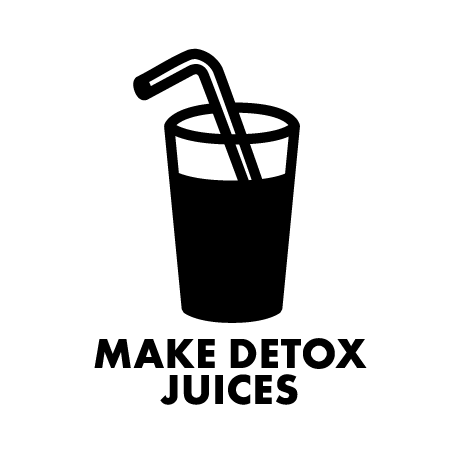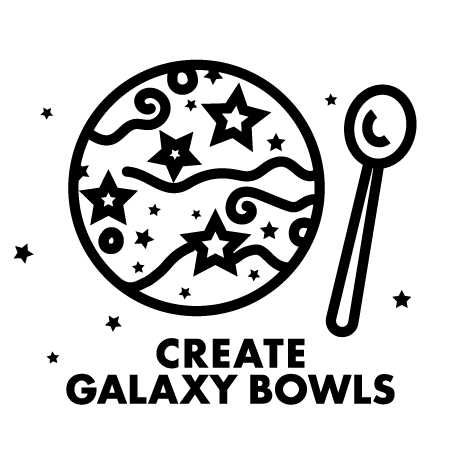 This product is classified as supplement

Do not consume with medications:
Activated charcoal should NOT be consumed at least 1 hour before or 2 hours after taking drugs, vitamins or other medications (Birth Control included) as it is a really potent adsorbent and might disrupt the effect of those medications. We like to roll on the safe side. So should you babe.

Do not exceed recommended dose:
A dietary supplement can't be a substitute for a diverse diet and healthy lifestyle. Not recommended for children, pregnant or lactating women and persons under 18 years of age.
How well does it mix with..?
Hundred of recipes to help you get amazing results
As all products are unique some are more suited for certain creations. Check our Recipes Database where we show you exactly how to get fantastic results with each product.

Link: View all recipes
---
Serving size: 1 Teaspoon / 1 grams
Servings per bag: 50
Note: A little goes a long way, start with the recommended serving size and add more if you want a stronger color.
| | |
| --- | --- |
| Pink Pitaya | Per 100g |
| | |
| | |
| | |
| | |
| Monounsaturated Fatty Acid (g/100g) | |
| | |
| | |
| | |
| | |
| | |
Benefits of Activated Charcoal
We would like to refer you to this independent article where you can read up on more details about this product, this is because we as a brand are not making any health claims on our products (read our reasoning to why below).
---
Why we don't make health claims.
We get emails DAILY asking if our products cure cancer, make your blind aunt see again, make you lose weight, get more beautiful skin and hair, etc because they've read it somewhere online.

Promoting exaggerated or completely false health benefits is not only immoral AF it, is also not legal to do so within the European Union.

Claims like this are RARELY backed up by science, but are used by brands to get customers to spend as much money as possible in hopes of miraculous results.

We are not here to play along with such dirty tricks, and we don't lie to our people.

A healthy lifestyle for us is all about balance, and our products can give you a boost on the way. But just like any other product it will not perform miracles on its own.

We are extremely proud of our range of colorful products, and know that they all share a strong nutritional profile (Antioxidants, vitamins, and minerals etc) we will not be making any bold statements around or on our end.

To achieve long term health we recommend eating a variety of plant based foods, moving your butt, and avoiding spending time around assholes.

Try that, and then you'll see REAL results!

Ingredient: Bamboo Charcoal Powder
Taste: Neutral
Appearance: Fine black powder
Product dimensions: 130 x 180 mm
Net weight: 50g / 1.7 Oz
Origin: ZheJiang Province, China
---
All our products have a perfect Certificate of analysis from manufacturing to assure the highest quality possible. They are carefully tested and analyzed to be safe to consume for people all ages.
| | |
| --- | --- |
| Subject | Tested ok |
| | |
| | |
| | |
| | |
| | |
| | |
| Material safety data sheet | |
| | |
How to store: Store in a dry and cool environment away from direct sunlight. Always re-seal both packing bags (inner + outer) to avoid moisture getting inside and causing it to get lumpy.

Shelf Life: 24 months from date of production.
Ingredients: 100% Activated Charcoal Powder
- This is a pure and natural product, no additives or other weird stuff. Just as it should be.

Our Activated Charcoal powder is made from 100% bamboo. It gives food an earthy, smoky taste and the black coloring gives the food a distinctive, tropical and  fashionable appearance.
Activated charcoal is a type of charcoal that's processed to make it more porous. This porous texture is what distinguishes it from other types of charcoals.
Easy as 1-2-3
Transform your meals from boring to EPIC in seconds by adding a scoop of our Rainbow Superfood powders.

Start with 1/2 teaspoon and add more if you desire a stronger color.
What you can make

We have even seen people do bath bombs, color their homemade soaps, and even face masks with our Superfoods. Creativity is your only limitation!
Pro tips for awesome results
A little powder goes a LONG way


Most products are

very

concentrated and we recommend starting with 1/2 teaspoon of the powder. If you desire a stronger color just add more powder until satisfied.

Light colored fruits will make them colors POP
In order the get those vibrant colors that you see on instagram, you need to know what to blend the powders with. Light colored fruits such as banana, pineapple, coconut are the best ingredients for a COLOR BOMB smoothie. 


DON'T blend with dark fruits and berries
You might have learned a thing or two from using watercolors as a kid. If you combine two colors with a lot of pigment none of the colors will pop. The same applies to our powders. If you mix them with blueberries, raspberries, pomegranate etc you won't get that vibrant color.


Works best below 70 degrees Celsius (158 Fahrenheit)
As our products are 100% natural without additives some of them will loose part of its color when heated. Pitaya is a good example of a sensitive product. To prevent this, try decreasing the temperature while frying for a longer time. This will prevent any discoloring. (For Pancakes as an example, fry them on lower temperatures for longer time to maintain maximum color but still get a regularly fried pancake).


Store your powders in a cool and dry place
In order to keep your powders as fresh as possible store them airtight in a dry, cool place away from direct sunlight. 


Create unique shades by mixing colors
This is where the fun begins and the possibilities are endless! Try combining multiple colors for unique hues and shades. Adding a little bit of pink/red fruits to your Blue Spirulina powder will create a mint or turquoise tone. 
100+ recipes to get you started
In our original Rawnice Recipes we show you exactly how to get fantastic results with any of our products. New recipes added each week!

Click the links below to find your next challenge:
All orders ship out from Sweden 🇸🇪
- This is because we are a Sweden based company.


How long is shipping?


European Orders

are usually delivered within 2-6 working days.

International Orders

are usually delivered within 5-15 working days.
Do you offer free shipping?
YES! All orders of 80 USD or more are shipped for free.
Do I get a tracking link?
All shipments are insured and fully trackable. Any lost, damaged or delayed shipments are covered in full by our Delivery Guarantee.


What is standard shipping cost?
If you don't reach our free shipping limit, we do need to charge a flat rate shipping fee of $17 USD to cover part of the shipping cost. (This is because all orders ship from Sweden). 


Do you ship to my country?
YES most likely as we ship world wide to all major countries and have tens of thousands of customers across all corners of the world!
When will you ship my order?
Speed is our priority. and for that reason any order placed before 13.00 / 1PM (Central European Time) is shipped out the same day. 

If an order is placed on a Friday afternoon after 13.00 / 1 PM or during the weekend, it will ship out Monday. If an order is placed during a holiday, it will ship out on the next working day.
No Ship Zone (Alphabetical order)
Argentina, Ascension Island, Bahamas, Bolivia, Brazil, Brunei, Chile, El Salvador, Eritrea, Fiji, Haiti, Honduras, Jamaica, Laos, Lesotho, Liberia, Libya, Mauritania, Mauritius, Mexico, Namibia, New Zealand (1 of 17 regions), Papua New Guinea, Russia, Somalia, Syria, Trinidad & Tobago, Tristan da Cunha, Turkmenistan, Venezuela, Wallis & Futuna, Yemen

Guarantee
Got more questions?

If you have any questions not answered in the FAQ's just send us an email at customerservice@rawnice.com or use our live chat, we are here to help.
Rawnice for Kids & Parents
Picky eaters? Not any more!
✔  All products are tested and safe for kids. Just follow our recommended serving sizes.

✔  Turn food into play and let your kids pick a color, then have them help prep their foods by adding the colors and watch it transform.

✔  A great way to add extra nutrients, and way more fun to any food.