Halloween - Witchy Pasta Sallad
Prepare your brooms and wands as this salad might awaken the magic spirit within you!
Ingredients:
12 oz/360g Pumpkin, diced into 2 inch cubes
2 teaspoons Olive Oil
3 oz/100g Kale, torn into small pieces
2 teaspoons Olive Oil
1 teaspoon Minced Garlic
250 grams / 8 oz Pasta Spirals (or shape of choice)
Balsamic Maple Dressing:
¼ cup Balsamic Vinegar
¼ cup Olive Oil
½ teaspoon Minced Garlic
1 ½ tbsp Maple Syrup
1 tbsp Dijon Mustard
Salt/Pepper, to taste
Garnish:
½ cup Toasted Slivered or Flaked Almonds
⅓ cup stoned and halved Olives
Directions:

Preheat oven to 180 degrees celsius.

Combine diced Pumpkin and 2 teaspoons Olive Oil in a bowl. Season with Salt and Pepper, and toss to combine. Disperse pumpkin out onto a baking tray lined with non-stick cooking paper. Roast for 20-25 minutes or until tender and golden.

Meanwhile, in a large saute pan, heat 2 teaspoons of Olive Oil with ½ teaspoon of Minced Garlic. Add torn Kale and saute until Kale has slightly wilted and is no longer tough. Season with Salt and Pepper and set aside.

Bring a pot of water to boil and cook the pasta according to directions. Once al dente, drain immediately and pour into a large bowl. Add 3 teaspoons of Rawnice Activated Charcoal Powder to hot pasta and toss to combine. Your pasta should turn a witchy shade of black.

In a small bowl, whisk all ingredients for Balsamic Dressing until combined. Pour ¾ of the dressing on the pasta and toss. Gently fold in your Roasted Pumpkin, Kale, Toasted Almonds and Olives.

Serve in a large bowl, and garnish with more Almonds, Olives and the remainder of your Balsamic Dressing. Enjoy!
---
Activated Charcoal is one of natures most powerful colorants. Our Charcoal is made from bamboo and it has such strong detoxifying properties that we never recommend consuming Activated Charcoal within 1 hour before or after any medications.

>> Read more about Activated Charcoal in the Shop <<
---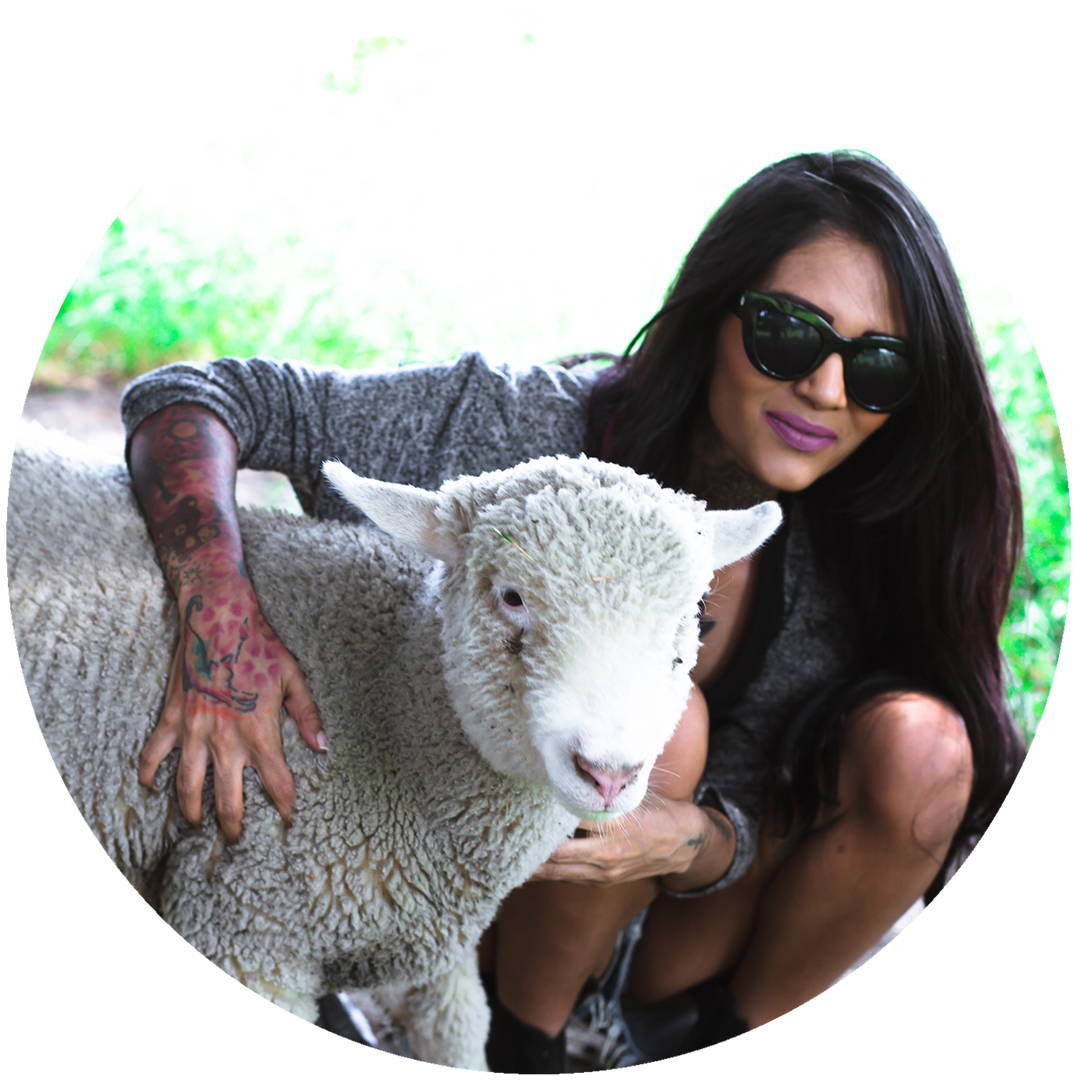 Amrita is our favorite crazy cat lady from Australia with some wicked skills in the kitchen. Besides being talented AF she is also hilarious and has baller tattoos.